Seeking Joy at Advent and Always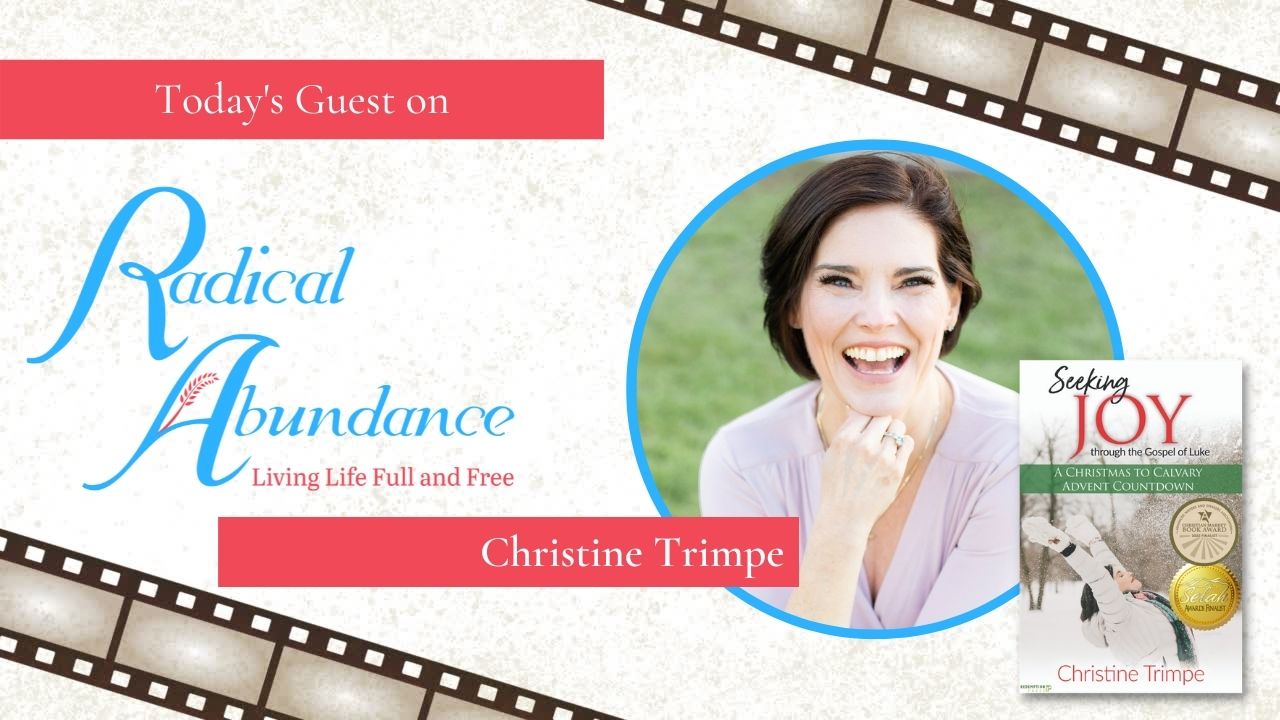 Are you seeking a joy-filled advent season? Christine Trimpe shares her story of feeling trapped and searching for comfort from food. Hear about her amazing heart and body transformation that led her to a life of joy and a 100-pound weight loss journey.
Seeking Joy Through the Gospel of Luke, a Christmas to Calvary Countdown https://amzn.to/3EH3gJT
Guest Bio: Christine Trimpe is an Award-Winning author, speaker, joy seeker, and weight-loss warrior. After losing over a hundred pounds in her joy-filled journey of healing, God instilled a passion within her to inspire, motivate, and encourage women to pursue healthy, holy living— body, mind, and spirit. Christine speaks and writes for women all over the world, sharing the freedom Christ offers when we choose the path of surrender and sacrifice. A 2022 Christian Product Book Award Winner in Non-Fiction and Selah Award Finalist, 𝑺𝒆𝒆𝒌𝒊𝒏𝒈 𝑱𝒐𝒚 𝒕𝒉𝒓𝒐𝒖𝒈𝒉 𝒕𝒉𝒆 𝑮𝒐𝒔𝒑𝒆𝒍 𝒐𝒇 𝑳𝒖𝒌𝒆: 𝑨 𝑪𝒉𝒓𝒊𝒔𝒕𝒎𝒂𝒔 𝒕𝒐 𝑪𝒂𝒍𝒗𝒂𝒓𝒚 𝑨𝒅𝒗𝒆𝒏𝒕 𝑪𝒐𝒖𝒏𝒕𝒅𝒐𝒘𝒏 is Christine's debut book, a twenty-five-day Christmas advent encouraging readers to live in the joy of the Lord despite their circumstance––seek joy, find joy, share joy. Her transformation story and Bible and Beans blog can be found at ChristineTrimpe.com, and you can email her at [email protected] for speaking inquiries.
Join Christine beginning December 1 in her annual tradition to Countdown to Christmas through the Book of Luke (Christmas Countdown through the Gospel of Luke) in her new book 𝑺𝒆𝒆𝒌𝒊𝒏𝒈 𝑱𝒐𝒚 𝒕𝒉𝒓𝒐𝒖𝒈𝒉 𝒕𝒉𝒆 𝑮𝒐𝒔𝒑𝒆𝒍 𝒐𝒇 𝑳𝒖𝒌𝒆: 𝑨 𝑪𝒉𝒓𝒊𝒔𝒕𝒎𝒂𝒔 𝒕𝒐 𝑪𝒂𝒍𝒗𝒂𝒓𝒚 𝑨𝒅𝒗𝒆𝒏𝒕 𝑪𝒐𝒖𝒏𝒕𝒅𝒐𝒘𝒏.
This post contains affiliate links. If you use these links to buy something we may earn a commission at no cost to you. Thanks.